Many business leaders are working hard to mitigate the problems arising from the COVID 19 pandemic. We thought it would be helpful to review some helpful strategic
Studies show that on average 67 percent of companies fall short in achieving their strategic goals.
Why is there such a persistent gap between ambition and performance? The gap arises, we believe, from a disconnect in most companies between strategy development and strategy execution.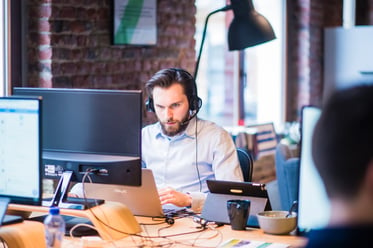 In the wise words of Stephen Covey,

"Most leaders would agree they'd be better off having an average strategy with superb execution, then a superb strategy with poor execution."
So why is strategy execution so difficult? Is it process, people, systems? Who or what is responsible for the lack of strategic goal attainment?
In other words, your organization's biggest strategic challenge isn't strategic thinking — it's strategic acting.
Here's 3 most critical items to consider during execution to help you achieve your goals
Alignments: One of the main reasons why business leaders failed on strategy execution is lack of alignment in people, technology and business goals. As technology and business requirements change very frequently in modern economy, it's critical that business leaders implement on-going process to re-align business objectives with technology and people. Consider the following example of resources driving in multiple direction compare to all resources are pulling in same direction:

It's business leader's responsibility to document business strategy, articulate and communicate to their staff and get all resources to be pulling in the same direction.
Schedule break down: Developing business strategy without broken down to small tasks and activities will create challenges during execution phase. Successful organizations split their business strategy into quarterly goals and then assign monthly – weekly – daily activities to achieve their objectives. It is much easier to communicate your strategy to your staff with daily activities to ensure that their departments execute the assign activities, to align their work with department and business objectives.
Build milestones to test and verify: It's not over. It's never over. To ensure the plan performs as designed, you must hold regularly scheduled formal reviews of the process and refine as necessary. When designed well, strategic performance milestones can give an early warning of problems with strategic initiatives, whereas financial targets alone at best provide lagging indicators. It provides an opportunity to re-assess process and re-align activities to achieve expected business results.
Have Your Passwords Been Stolen in a Data Breach?
Contact us for a free technology pre-assessment today and start protecting yourself from cybercriminals.
Transitioning to the cloud or worried about security? We are your leading Cloud Services Providers Toronto and Managed Security Services Toronto.
CLOUDXONE is Toronto's leading IT consulting solution expert offering industry leading IT solutions including Strategic Advisory, Microsoft 365, Tech Support Services, Cloud Services, Business Data Recovery and File , voIP Phone Systems.
Our IT experts are happy to assess your needs, fill out our form here to put your IT infrastructure and business to the test!
Worried about security or need to transition to the cloud?
Contact CloudXone IT Services at 647.714.8333
We are friendly, creative and dedicated, serving the Greater Toronto Area for over 20 years.

TECHNOLOGY ASSESSMENT
If you enjoyed this article, share it on social media.
FOLLOW US ON SOCIAL MEDIA.